ZonePro, Designed To Lead The Way
At ZonePro®, we lead with innovation. Our custom-engineered products improve safety or define spaces, while managing foot traffic and providing a unique vehicle for marketing and branding. Our commitment to product design ensures that we continuously improve and innovate quality units that fulfill customer needs.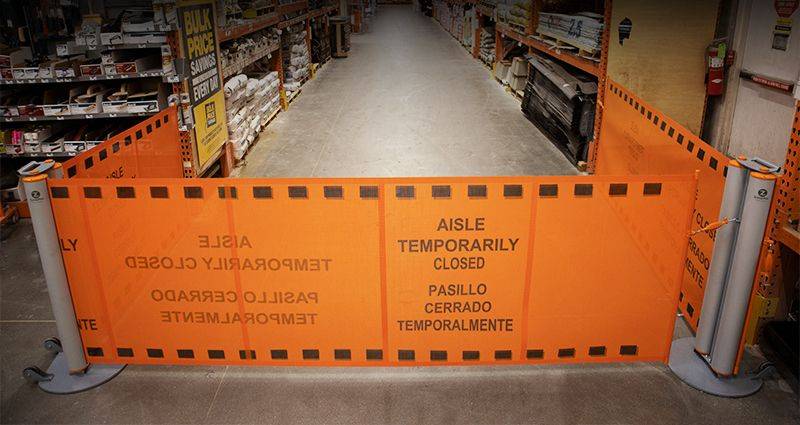 For decades, businesses have been using belt barriers to corral customers and block access. With the design essentially staying the same since the 1970s, the clunky contraptions were starting to feel like a relic from the past — that is until ZonePro® brought them into the present with ergonomic design, patented technology, and the goal of transforming the humble banner into an advertising and communications vehicle.
The idea for the unit came to engineer Andrew Reiner while he was serving as the CEO of a rolling stock solutions company. He noticed a gap in the industrial and retail markets for versatile safety barriers that could service modern warehouses, and spent the next five years inventing an alternative that was easy to move and set up while still being durable and highly visible to employees and customers.
ZonePro® first set their sights on safety barriers, developing an ergonomic product that was both user-friendly and highly effective at defining areas and restricting access. In addition to ZonePro®'s functional superiority, it also offers a unique branding and marketing opportunity. What started with simple safety messaging soon expanded to full-color, customizable graphics that could display logos, branding, and even QR codes.
That attention to detail is reflected on the inside of the product. Each ZonePro® canister has been specifically engineered to contain high-endurance springs and other patent-protected mechanisms that have been tested and engineered to withstand a multitude of damage cycles (i.e. being opened and closed). This makes the safety line ideal for industrial spaces, processing plants, and warehouses.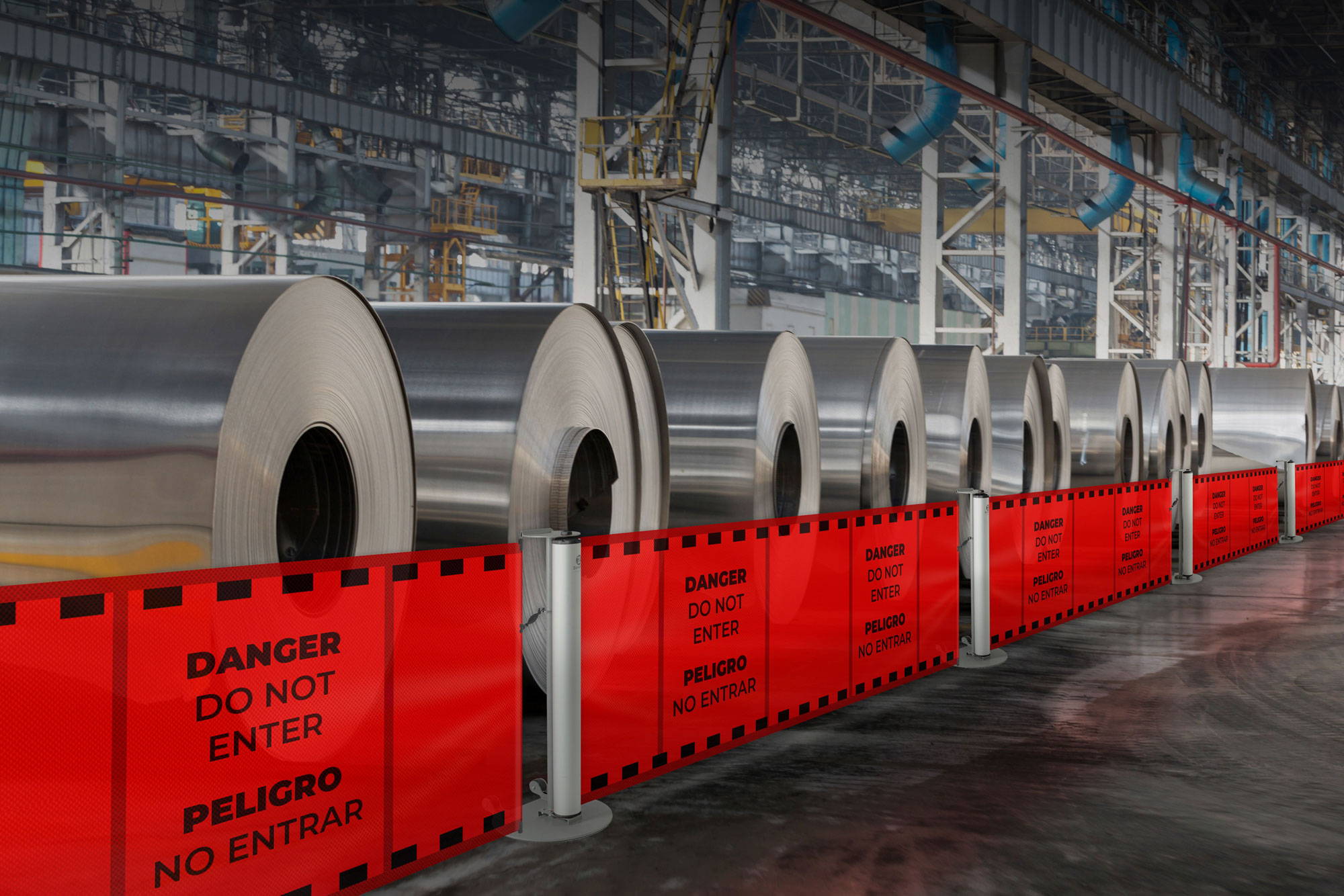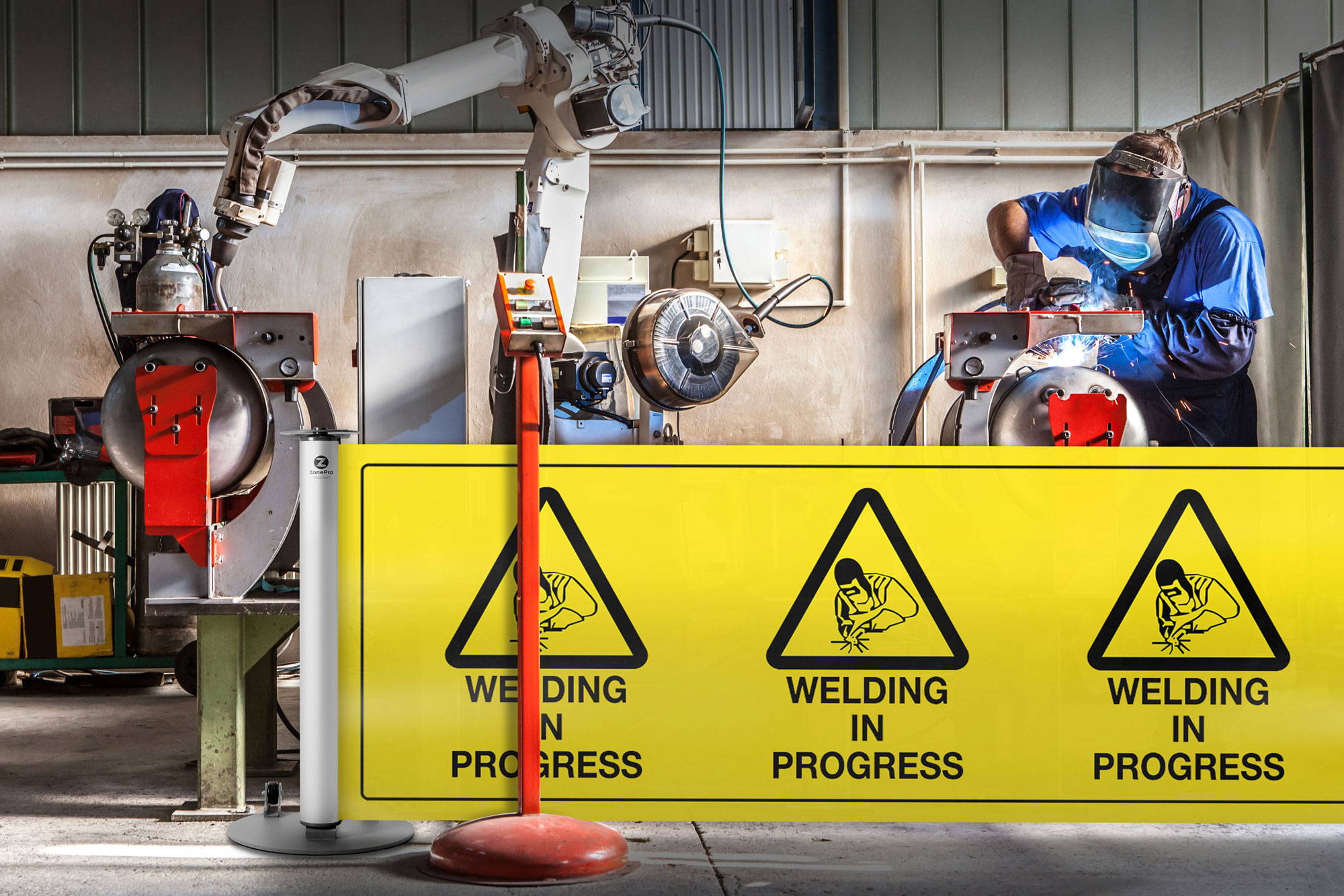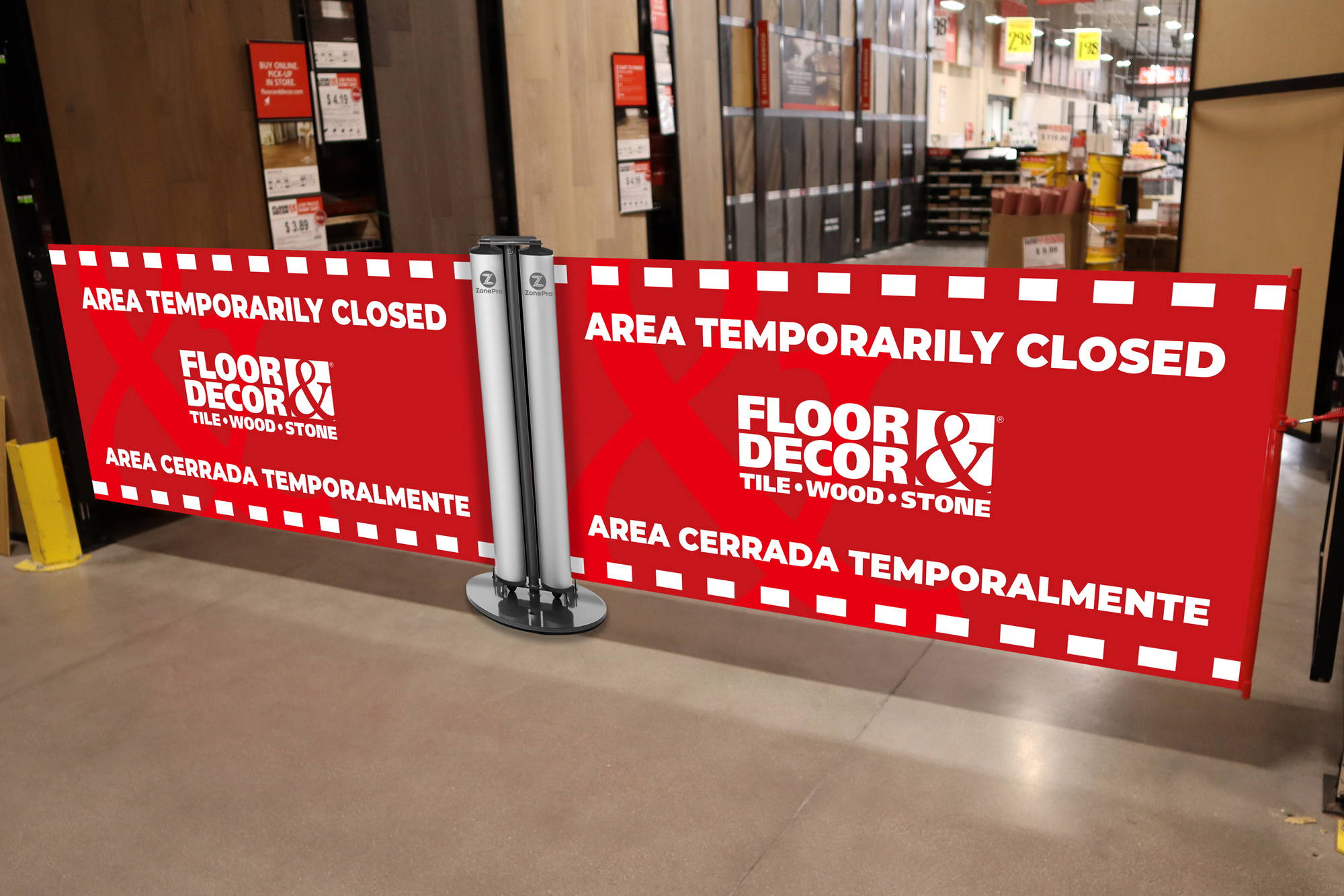 With self-checkouts and self-service kiosks increasingly popular,ZonePro® introduced the retail line. These barriers boast the same hardy functionality of the industrial line, but are geared towards theft prevention or "shrink." Basically, the units — which can be fixed in place or free-standing — block access to empty registers and funnel customers through pre-determined exits. For this line, banner customization focuses predominantly on messaging, retail branding and advertising opportunities.
In 2023, ZonePro® added a premium product line that offers an even greater degree of customization. With 12 x 3 feet of dual-sided advertising real estate on each banner as well as customizable panels on the side of the canister, advertisements now reach potential customers at the point of decision while they are lining up.
Units can be set up in high value locations, providing incremental ad space to a captive audience in areas that are traditionally hard to reach. Moreover, the premium product has no installation cost and graphics can be swapped in minutes, making it easy to switch campaigns or advertisers with little lead time.
As we develop from a small family-run company to a force in the safety barrier and advertising industries, innovation will stay at the forefront of everything ZonePro® does.